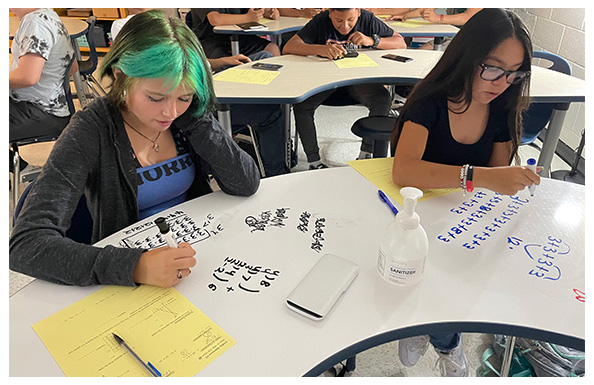 As a Math Department, we believe firmly in our students' futures.  Math has become a vehicle for exposing students to college-readiness skills as early as sixth grade.
Our educators are passionate about teaching students how to gain skills that will support future learning.  Because of this, you will see students using Interactive Notebooks as a class tool, as well as, an at-home study resource. At home, students will use strategies such as Cornell Notes and 10-24-7 to study the content discovered in class. 
You can expect students to participate in Philosophical Chairs and Socratic Seminars during math.  College Tutorials are also used as a method to clarify misunderstandings and reach a deeper level of rigor.  AVID allows teachers and students to extend the students' learning journey beyond the three years they spend at Boltz.
At Boltz Middle School, our instruction is centered on the Colorado Academic Standards.  We focus on both the content standards, as well as The Standards for Mathematical Practice. While facilitating mastery of these standards with our students, we implement three components of rigor.  Students develop conceptual understanding of the content through inquiry and discovery. They then become procedurally fluent with the practice of efficient algorithms.  Finally, students use their conceptual understanding and procedural fluency in a variety of application scenarios.  Our ultimate goal is for students to learn content that can be applied in unfamiliar applications that are relevant to our adolescents.
At Boltz, math is more than content. Our staff is passionate about middle school learners. Using the workshop model, students discover the math, as we help them develop thinking strategies. We strive to have student-focused conversations – where accountable-talk is the norm.  Because of this, you would find students in cooperative learning groups, investigating, communicating, facilitating, and most importantly, growing. As students explore a series of connected problems, they develop understanding of the embedded ideas and, with the aid of the teacher, gain abstract powerful mathematical knowledge. We believe that learning math involves perseverance, reasoning abstractly, attending to precision, constructing viable arguments and more. We love our students and the journey of learning we embark on together. 
Math Opportunities:
Math Counts - Fun competitions AND state-wide
National Junior Honor Society (NJHS)
Lego Robotics Teams
Engineering opportunities
3-D Printing capabilities
AVID - Math tutorials and college preparation
Math focused advisories
GT focused Advisories with Advanced Learning Plan guidance and work-time
WEB student leader support for 6th grade students