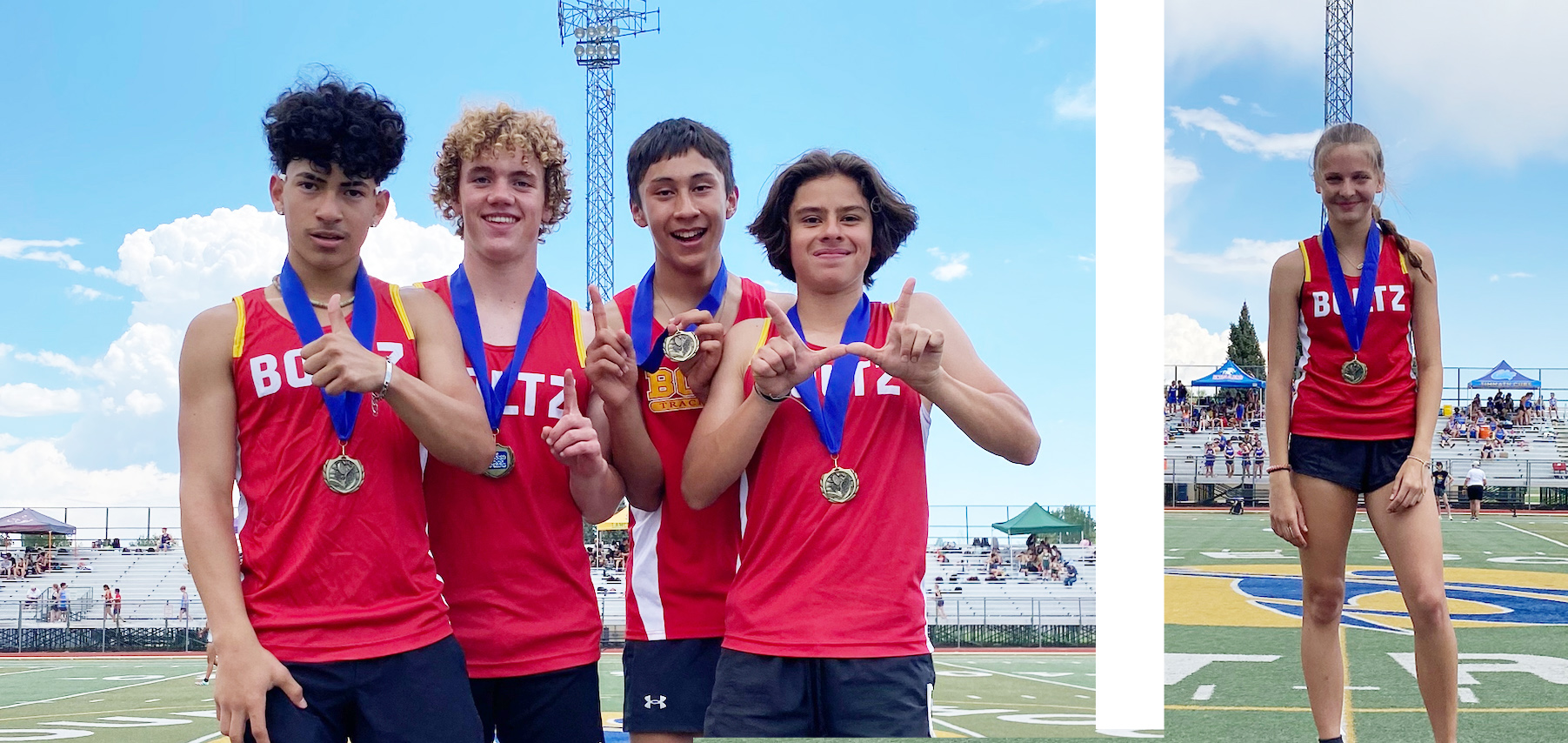 The Boltz boys 4x4 relay team (Aiden Ruiz Martinez, Frank D'Aquila, Colton Whish, and Giovanni Lagunas Castaneda) are PSD District Champions and broke the district record in the process with a time of 47.66! 
Ava Folkestad is also a District Champion. She won first place in the girls 200 meter!
BOLTZ MIDDLE SCHOOL TRACK
Track is open to ALL grades for boys and girls!
Online Registration: https://poudreathletics.sportngin.com/register/form/788375463
Participate: If you are looking to participate in Track you must be registered, have a current sports physical on file at the school, and have fees paid . Students must have these three things completed before the first official practice in order to participate.
Head Coach: Micah Nielsen mnielsen@psdschools.org 
Assistant Coach: Carter Janicki cjanicki@psdschools.org
Optional Camp: Monday, March 18, 2024
First Official Practice: Monday, March 25, 2024
Practice Times: TBD
Picture Day: TBD 
Band App Link: TBD
Track Boltz Store: TBD
Parent Meeting: TBD 
What you will need: For each practice you will need shorts, a t-shirt, a water bottle, running shoes, and other weather-related gear .
Schedule: Can be found under documents
Sports Fee: $140. Fees can be paid online on School Pay or in the Boltz front office.
Waived Fee: Qualifying students may apply to have their sports fee waived. Apply online for this program on the Free and Reduced Lunch Web Page. Once the form is submitted and your student is approved, parents must complete the permission to share the form online via ParentVue. Once these steps have been completed their athletic fee will be waived. This will include all sports played for the school year.
Boltz Athletics: Where we inspire students to be a great person, a great student and then a great athlete!
Please read and complete all PSD paperwork (below) so that your child can participate on the first day of practice/tryouts:
Click HERE for the link to register online.
Click HERE for a copy of our registration form in English.
Click HERE for a copy of our registration form in Spanish.
Click HERE for a copy of our sports physical form. (take with you to your doctor's)
If you have any registration questions, please contact:
Gabriel Vigil AP/ Athletic Director
970-472-3704
or
Jenae Huffman Proctor/Athletic Secretary
jhuffmanproctor@psdschools.org
970-472-3708