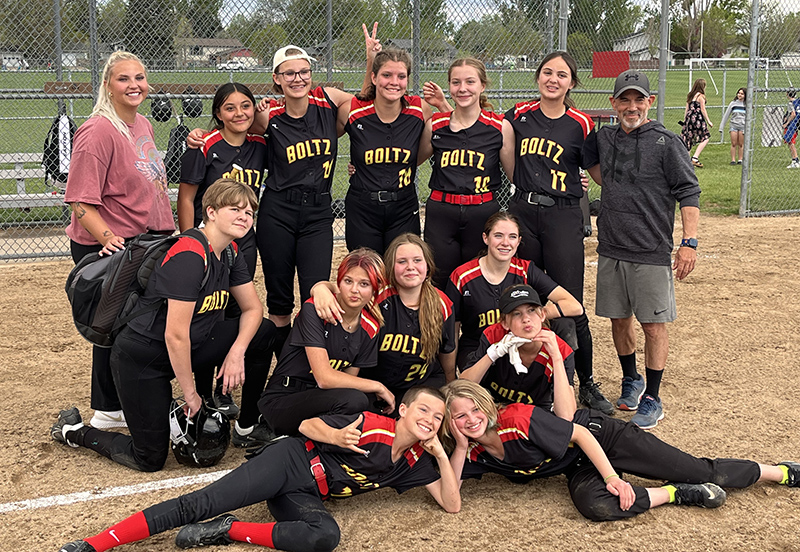 BOLTZ MIDDLE SCHOOL SOFTBALL
Softball is open to 7th and 8th graders!
Participate: Student must have an ORANGE CARD issued to them by the Athletic Secretary to participate. They will be issued an orange card once it's been verified that they are registered, have a currents sports physical on file, and fees have been paid. The student will give this orange card to their Coach. Student WILL NOT be allowed to participate on the first day of practice without the orange card. Please plan ahead.       
Head Coach: Tony Garcia tony5225@gmail.com 
Coach Garcia taught and coached in Poudre School District for 26 years, with 20 of those spent at Boltz Middle School.
Recently retired, he is very excited to once again have an opportunity to coach Girls Softball. In addition to coaching
softball, Coach Garcia has coached boys and girls basketball, golf, volleyball, and baseball. 
Assistant Coach: Ingrid Cochran
Optional Camp: Monday, March 4, 2024
First Official Practice: Monday, March 18, 2024
Parent Meeting: TBD
Practice Times: TBD
Softball Boltz Store: 
Schedule: Varsity schedule can be found under documents. 
Picture Day: TBD.  
Expectations: 
Our expectations for our players are simply to be prompt, prepared, and positive. Prompt means players
should have all equipment carried to the field and be ready to begin practice at 3:00. This will require players to get to 
their lockers immediately after the final bell, and quickly change into their practice gear. Prepared means players
will have all of their equipment on a daily basis and be flexible enough to practice both outdoors or indoors, 
depending on the weather. Finally, positive means that softball is a negative-free zone. Players must be willing
to be coached, be accepting of feedback, and be kind and respectful towards teammates, coaches, opposing teams,
and game officials. 
Sports Fee: $140. Fees can be paid online on School Pay or in the Boltz front office.
Waived Fee: Qualifying students may apply to have their sports fee waived. Apply online for this program on the Free and Reduced Lunch Web Page. Once the form is submitted and your student is approved, parents must complete the permission to share the form online via ParentVue. Once these steps have been completed their athletic fee will be waived. This will include all sports played for the school year.
Boltz Athletics: Where we inspire students to be a great person, a great student and then a great athlete!
Please read and complete all PSD paperwork (below) so that your child can participate on the first day of practice/tryouts:
Click HERE for the link to register online.
Click HERE for a copy of our registration form in English.
Click HERE for a copy of our registration form in Spanish.
Click HERE for a copy of our sports physical form. (take with you to your doctor's)
If you have any registration questions, please contact:
Gabriel Vigil AP/ Athletic Director
970-472-3704
or
Jenae Huffman Proctor/Athletic Secretary
jhuffmanproctor@psdschools.org
970-472-3708