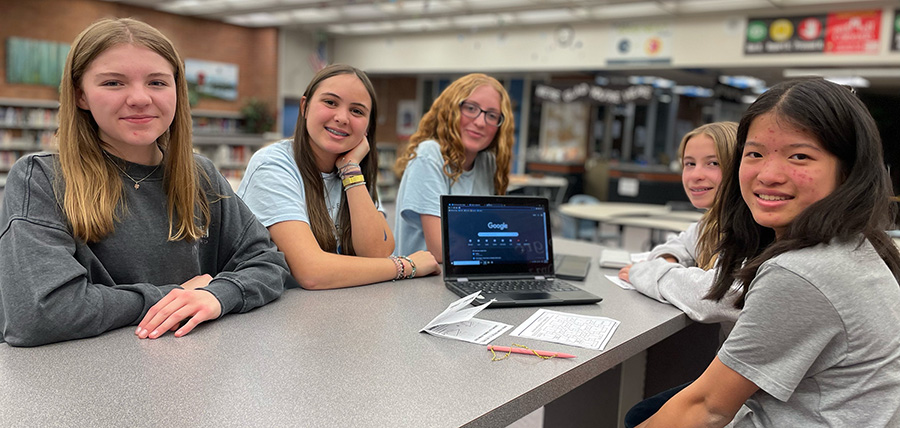 Activity
Name
Contact
Location
Frequency
When
NJHS / Give Next
Kurt Mayer
kmayer@psdschools.org
Media Center
Monthly
2:45-3:15

The National Junior Honors Society is a nationally recognized student service society whose purpose is to create enthusiasm for learning, stimulate a desire to render service, promote leadership, develop character, and encourage excellent citizenship.

For more information about NJHS:  https://bol.psdschools.org/clubs-activities/national-junior-honor-society-njhs

For more information about Give Next: https://bol.psdschools.org/clubs-activities/give-next

Odyssey of the Mind
Emily Fullenkamp
efullenkamp@psdschools.org
Room 28
Second Semester
Advisory
Odyssey of the Mind promotes creativity by challenging teams to solve divergent problems, that is, those with more than one solution
Chess and Games
Patrick Mead
Media Center
Thursday
2:45-3:30pm
Learn to play chess and other board games.
Soccer Club
Gabe Vigil
gvigil@psdschools.org
Soccer Field
Fall (Boys) / Spring (Girls)

After School

A semi-competitive athletic opportunity for students to practice and play soccer with other students around the district.
Spectrum Club
Natalie Pearce / Andrea Christensen
npearce@psdschools.org andreac@psdschools.org
Room 14
Tuesdays
2:45-3:15
The Boltz Spectrum Club exists to foster an inclusive community and safe space by allowing students to blossom in their personal identities
Club Council
Abby Miller
amiller@psdschools.org
Room 48
Daily
Advisory
Club Council brings together diverse groups of students in order to amplify student voice, give back to the community, and work to continually improve our school student driven club to make school wide decisions for Boltz Middle School
Technology Student Association and Community Space
Yoko Laidley
ylaidley@psdschools.org
Room 45
Weekly
Advisory
TSA Chapter/Makerspace Club: The club's mission is to foster confidence, competence, and a sense of belonging in STEM fields [science, technology, engineering, art, and mathematics] through the exploration of low- and high- tech equipment and materials.  The Community Makerspace is a place where formal and informal learning comes together to holistically elevate the lived experiences, voices, and cultural assets of students through hands on making that help them refine their ideas, be more engaged with problem solving, and develop leadership skills, such as ingenuity, adaptability, collaboration, and persistence. The clubs are available to all Boltz students, their families, and staff, regardless of their level of knowledge or department.
Where Everyone Belongs (WEB)
Chris Thompson, Megan Campain, MacKenzie Metz
cthompson@psdschools.org mmcgrew@psdschools.org mmetz@psdschools.org
Ask Your WEB Leader
Three Days a Week
Advisory
WEB, which stands for "Where Everybody Belongs" is a middle school orientation and transition program that welcomes 6th and new 7th graders, and makes them feel comfortable throughout the first year of their middle school experience.
Boltz Running Club
Eric Buxman
ebuxman@psdschools.org
Front of School
Mondays/Tursdays
3:00-4:00pm
Running/Walking Club will meet on Mondays and Thursdays (dependent on weather).  We welcome ALL students, teachers, and parents of all running abilities - the more, the better!